Messages
Acting with Courage to Open Up New Horizons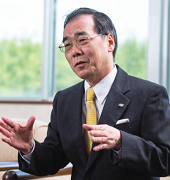 Chancellor of THERS
Seiichi
Matsuo
Guided by its "free and vibrant" academic culture, Nagoya University has sent many people who have the potential to play a leading role in various fields of society out into the world. Our ability in world-class research has been proved by the fact that 6 out of the 13 Japanese Nobel Prize laureates in the 21st century are our faculty members.
In the pursuit of scholarly excellence, diversity is a critical keyword. It is only when researchers from various fields transcend the boundaries of gender, nationality, and religious creed and join together that we can expect to carve out new frontiers of knowledge. The most important factor in this endeavor is gender equality. While it is true that Japan still lags behind Western countries in this regard, one initiative after another is being taken, as people gradually begin to appreciate the true value of gender equality.
One of the forerunners in this movement is Nagoya University. Our multifarious activities have met with high acclaim both in Japan and abroad, as we provide an after-school childcare center - the first such initiative by a national university in Japan - and increase the employment and support of female researchers, while also conducting nationwide educational caravans run by the faculty members of Gender Equality Office. In fact, Nagoya University was among the 10 world universities chosen in 2015 by UN WOMEN for their activities to achieve gender equality.
"The Women Leaders Program to Promote Well-being in Asia" is an epoch-making program that promotes gender equality and cultivates global leaders for future generations. The main feature of our program is that we offer international education and research activities in collaboration with leaders from Asia and all around the world to realize well-being in Asia.
"Learning and developing together with our counterparts in Asia" is our slogan. Under the framework of the program, students work diligently together to open up new horizons, as they take on the various challenges in Asia with diversity to reach the ultimate goal of promoting well-being. When students who have acquired leadership in this program assume leading roles in the global community, I am confident that we will be able to change the world and realize gender equality.
It is individual's courage and will to act that can make a difference in our society, which is currently burdened with numerous problems, including a declining birth rate and aging population. I sincerely hope that Nagoya University - a headquarters for gender equality - will courageously step forward to make valuable contributions toward the society.
[Short bio]
B. Medicine (1976), M.D., and Ph.D. (1981) from the Graduate School of Medicine, Nagoya University
Research Fellow, Mount Sinai Medical Center, U.S. (1981); Research Fellow, State University of New York, U.S. (1982); Physician, Chubu Rosai Hospital, Labour Welfare Corporation (1984); and Professor, Graduate School of Medicine, Nagoya University (2002)
From 2015: President, Nagoya University
Areas of expertise include nephrology and general internal medicine.
Major appointments in academic society include Leader of the Research for Progressive Kidney Diseases of the Ministry of Health, Labour and Welfare of Japan; President, Japanese Society of Nephrology; President, Japan Association of Chronic Kidney Disease Initiative; and Executive, Asian Pacific Society of Nephrology.

Fostering Confident and Strong Women Leaders Creating the Future of Asia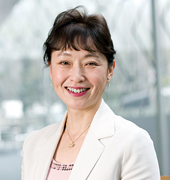 Program Coordinator
Vice Trustee (Gender Equality)
Director, Center for Gender Equality
Professor, Graduate School
of Bioagricultural Sciences
Hiroko
Tsukamura
In today's society, which requires a range of approaches to ensure sustainable social development, women, as "buried resources", will be crucial in reviving companies and society in Japan. The effective use of women's potential is the most important issue to be addressed in Japan's long-term growth strategy. While women leaders are quite active in other Asian countries, Japan ranked 101st of 135 countries on the Global Gender Gap Index in 2012, by far the lowest of the developed countries. Thus, developing women leaders is not just a mission, but an obligation of Japan as a nation.
This program, launched under these circumstances, aims to fully utilize the talents and characteristics of women researchers to achieve well-being in Asia. Well-being, as the main theme of the project, refers to a state characterized by good physical, mental, social, and economic conditions, as well as the guarantee of individual rights and personal fulfillment.
When we look at the reality of the situation in Asia, there are many kinds of problems that need to be solved and a variety of expert knowledge is necessary to address them effectively. For example, Thailand and the Philippines, similar to the situation in Japan, face challenges involving lifestyle-related diseases. Cambodia and Myanmar have high rates of pregnancy-related and perinatal death of both women and infants. This program focuses on food, health, the environment, social systems, and education and is jointly run by four graduate schools -- International Development, Medicine (including Health Sciences), Agricultural Sciences, and Education and Human Development. To achieve sustainable well-being in Asia, the program aims to develop women leaders with the ability to understand situations from a comprehensive viewpoint, and who have a high degree of professionalism and a strong sense of responsibility.
Nagoya University has taken significant steps to promote gender equality and provide support to women researchers in terms of both hardware and software. Based on these experiences, we wish to foster women leaders who can strengthen the network and work in partnership with other women leaders in Asia.
I hope many young and talented individuals will join us and together create a bright future in which women will work together closely to build a world of well-being, transcending the boundaries of ethnicity, nationality, religion, and expertise. Let's share our vision of the future Asia and work together to bring happiness and peace to the region!
[Short bio]
Ph.D. (1991) from the Graduate School of Agricultural Sciences, Nagoya University
Postdoctoral research fellow, University of Kansas Medical Center (1991);
Assistant Professor, School of Agricultural Sciences, Nagoya University (1991);
Associate Professor (1998), Professor (2013), Graduate School of Bioagricultural Sciences, Nagoya University;
Member (2003), Director, Office for Gender Equality and Advisor to the President (Gender Equality), Nagoya University (2006).
From 2015: Vice Trustee (Gender Equality), Nagoya University.
Major Appointment in Academic Societies include Visiting Assistant Professor, Inter-University Research Institute Corporation, National Institutes of Natural Sciences, National Institute for Basic Biology (additional post).
Areas of expertise include reproductive sciences and neuroendocrinology.